Many of London's millions of annual visitors are returnees who can't resist this great human magnet. For an original experience to compliment the usual stops at Buckingham Palace, the Tower of London, and Madam Tussauds, the seven kilometre eastern section of Regent's Canal is a chance to view London with a fresh set of eyes.
Built in the early 1800s to link the northern waterways of London with the river Thames, vessels traversed London's intricate system of canals carrying supplies such as timber, stone and coal for much of the next 150 years. By the 1960s however, increases in rail and road transport saw the canal's importance as a carrier of freight evaporate. Neglected and ignored by all but the most rusted-on locals, the canals have been reinvigorated over recent years, attracting new residents, businesses and tourists, each looking to tap into the buzz of a growing hub of activity.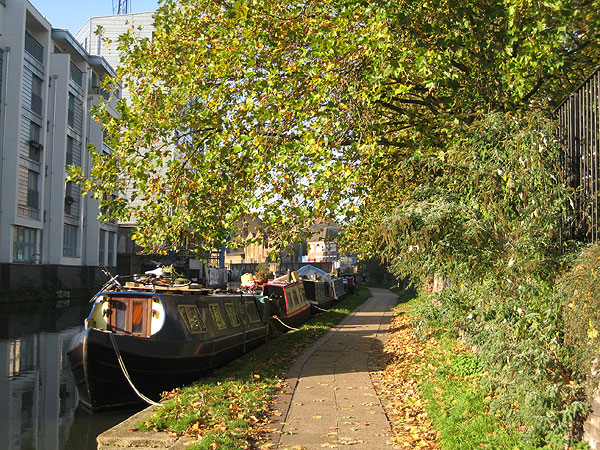 Unlike the more fashionable western part of the canal running through Kings Cross, Camden, and Regent's Park, the appeal of the eastern passage lies not in the gleaming new apartment and office blocks that shadow it, but in the authenticity of its street art, grungy cafés and scores of colourful houseboats. Where pollution, rubbish and weeds once ruled, this part of the canal has become an important everyday space for exercise, relaxation, self-expression and commuting.
Today there are three ways to experience Regent's Canal; on foot, by bike, in a water craft – or by a combination of the three. If you're staying in central London, bikes can be hired at many locations across the city. If you don't fancy the hair-raising ride through inner-London to reach the canal, multiple buses will take you to Angel Islington, close to several docking stations for the convenient hire and return of your bike.
The return trip is easily achieved in a day, and whether your vice is coffee, cake, shopping or beer, the canal's activities cater to all.
FOOD
There are many cafés along and near the canal's banks; some serve coffee, tea and cake only, while others boast a full kitchen run by industry notables. Respected food writer Lori DeMori is the co-author of several Italian cookbooks, and opened Towpath (36 De Beauvoir Crescent, N15, near Whitmore Rd. bridge) four years ago to capture some of the commuter traffic. The café has since become a destination in itself. "We lived opposite and saw the number of people starting to use the canal" she said. "We thought, hey there's an empty space there right on the water that we could convert." Although seasonal (DeMori splits winter between Asia and Italy) fans now flock daily for the reliable coffee, decedent cheese toasties and evening activities, including spit-roasts, hearty rustic quiches, and pasta specials; often accompanied by musicians and mulled wine.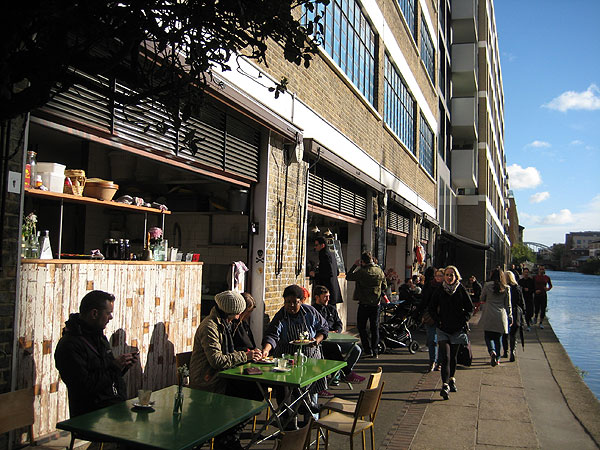 With a reputation as one of the leaders of the East End food movement, the exterior of Bistrotheque (23-27 Wadeson St, E2) could pass for a rubber factory or shoe warehouse, but concealed within is a culinary treasure from top to bottom. Downstairs is the moody private bar where they will host your function and happily serve you fabulously expensive cocktails or the best in craft beer. Upstairs you'll find an appealing, open white space, interesting menu choices, and quality service with that touch of playfulness that only the best restaurants seem to pull-off. Enjoy brunch/lunch or dinner while a hung-over pianist shakes out the cobwebs with some slow Henry Mancini show tunes, before snapping to attention and belting out Amy Winehouses' Rehab with a sudden burst of energy. The braised pork cheeks and duck fat chips will be remembered long after you've summoned the will to work them off.
There are many pubs along the route, but like elsewhere in the Empire, the number of places you can still order a good old toad-in-the-hole or smoked haddock is diminishing rapidly. The secret to British pub food lies in the history and atmosphere of the establishment itself – when else would visitors attempt to eat anything as disgusting sounding as black pudding, tripe or kidney pie if not without a pint of ale in an English pub?
'Gastro pub' The Narrowboat (119 St Peters Street, N1) has an extensive British inspired menu and serves brunch from 11am, then lunch and dinner daily. Sunday lunch is popular and booking is advisable. Plenty of worthy cask ales (unfiltered and unpasteurised) are available to try while looking out over the canal's activities below.
The Rosemary Branch (Rosemary Gardens, Southgate Rd, N1) is a great stop for a Czech beer, simple meal or if you're passing by late afternoon or evening, an upstairs show in the theatre. The live music and off-beat productions are as popular with locals as the famous Sunday roasts. During Saturday's Broadway Market, The Dove (24-28 Broadway Market, E8) is teeming with life but it's still worth a stop for a Belgian ale or hearty stew. On a cold day you'll find lots of little spaces to relax inside, even better if you can get a table outside in the sun from which to observe the passing human traffic. The Palm Tree (127 Grove Rd, E3) is conveniently situated on the banks of the canal at Mile End. Enjoy a game of darts and one of the regularly rotated 'guest' beers.
TOURS
A lazy afternoon houseboat cruise is an outstanding way to breathe in the ambience of the canal and its surroundings. Duck your head as you pass under low bridges, and avoid seduction by the boat's cry of freedom. Many a casual day-trip has ended in an exchange of ownership papers. Royden Mayfield, an 'Aussie-Kiwi' on an extended visit to the UK to be close to family was one such case. "My wife and I hired a houseboat for a month, just to see what it was like" he recalled. "One day the thing wouldn't start, and a helpful local boat owner came to the rescue. We admired his custom built craft, and by day's end, we'd bought it!"
If that sounds like too great a commitment for you, the London Canal Museum (12-13 New Wharf Road, N1 www.canalmuseum.org.uk) operate short trips, while the Bow Boat Company (Bow Lock, Gillender St, E3 www.bowboatcompany.com) offers half day, full day or custom tours.
For a unique perspective, London Kayak Tours (www.londonkayaktours.co.uk) will team you up with a British Canoe Union instructor, and guide you through the canal's maze with a paddle, and a glass of bubbles.
If you prefer to keep your feet firmly planted on land, London Walks (www.walks.com) offer 'Islington to Mile End' walking tours with a knowledgeable local who will highlight points of interest, such as the locks and moorings, and give insight into the waterway's history.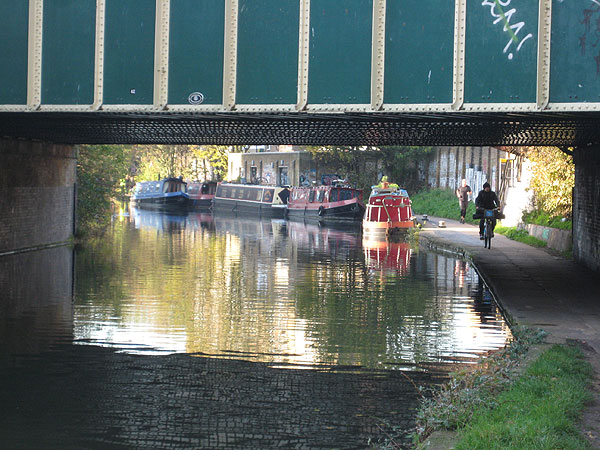 SUGGESTED ROUTE
From City road, Duncan Terrace Gardens is a logical starting point. Head eastward along the northern shore of the canal, noting the combination of towering council flats, warehouses and high-rise residences. Waterfowl of various size and colour will follow, and converge if you display any sign of offering a nibble.
This stretch of the canal features plenty of street art, and although his ongoing feud with the followers of the graffiti artist known as 'King Robbo' usually results in his pieces being swiftly defaced, Banksy's art has been known to grace the canal's walls and undersides of bridges.
Although easy to miss, within a minute or two you will come across The Pumphouse Café, tucked neatly in the cavernous old lock station building opposite City Rd Basin, serving a range of hot beverages and treats.
Check out the art in the Proud Archivist (2-10 Hertford Road, N1), a bright space just off the Kingsland Rd specialising in brunch, dinner, coffee and cocktails. Recent exhibitions included the fabulous Gathering Storm – The Album Art of Storm Thorgerson, featuring artwork that ensured the familiar cover images of Pink Floyd, Black Sabbath, Peter Gabriel and Led Zeppelin LPs have been laser etched into our consciousness.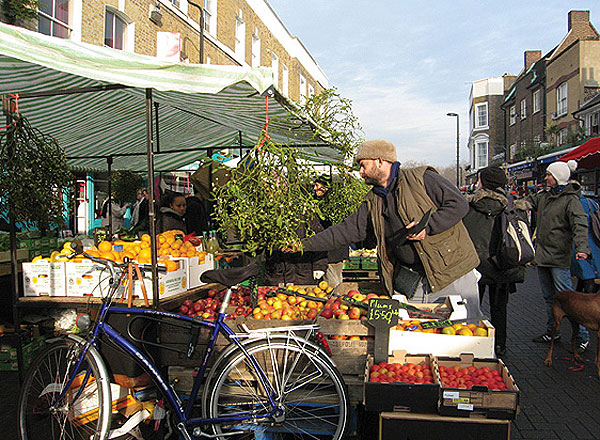 Foodie heaven Broadway Market is on every Saturday from 9am until 5pm – although some cafes open earlier – and there are usually several coffee stands, as well as multiple options for bread, pastries and cheese. For those who fancy something more substantial, choose from a plate of spicy dahl, German sausage with sauerkraut, or piping hot roast hog roll.
Work off morning tea or lunch with a lap or two of the scenic Victoria Park, or if you're still in need of sustenance, enjoy an organic juice, hot tea, or veggie fry up on sourdough from the Pavilion Café while you feed the ducks.
Whether its summer or winter, at this point in your journey you're bound to be thirsty. If you somehow managed to resist the charm of The Crown (223 Grove Road, E3) as you passed, nip into The Palm Tree for a British bitter and classic London pub experience.
Continue along the path as it meanders south towards the Thames, discovering the Ecology Park in Mile End Park, followed by the Terraced Garden and fountain of nearby Millennium Park.
By now you're either spent of energy or full of beer, so it's time to return along the path, or jump on either the tube at Mile End, or one of many buses that will take you to central London along Mile End Road. If you have a London bike to return, there are two docking stations within a hundred metres.
GETTING THERE
Regent's Canal east can be accessed from Angel Islington, – a short trip from central London via the Tube, buses 73 and 30 from Marble Arch, 38 from Piccadilly or 341 from the Strand.
STAYING THERE
The Hilton Islington is within close walking distance of Regent's Canal. Rooms start at $250 a night. www.hilton.com
BIKE HIRE
There are hundreds of hire and deposit stations across inner London. You will need a credit or debit card to receive a bicycle release code. Up to four bikes can be hired at once. Access is £2 per hire, and trips under 30 minutes are free. A three hour hire will cost £15, and six hours will set you back £35.  See www.tfl.gov.uk/roadusers/cycling for more information.