The idea of travelling through Morocco invokes images of labyrinth-like Medinas, marketplace snake charmers, and broad expanses of sand. The reality? Yeah, pretty much that…
In saying that, most trips do tend to fall victim to our preconceived ideas, or at the very least our first impressions, so it takes effort to wipe away visions of traversing this exotic country, munching on dates atop a camel, whilst being escorted by Indiana Jones. But train? Surely they will be decrepit, over crowded, colonial-era shells held together by varnish, and dragged along by a team of unwilling donkeys and the occasional steam engine?
Not in the least.
Since gaining independence from France in 1964, Morocco has steadily dragged itself and its image out of the shadows of its former underdeveloped existence, with a modern fleet of trains and high-tech booking system a primary example. We're too early for the high-speed service due to open sometime in 2019, which will reach 320kph while linking Tangier in the north, eventually stretching to Agadir in the south. In the meantime the trains are modern, clean and sleek, and generally meet their tight schedule.
We fly into Marrakesh, and its from here our train trek will begin, but not until we've admired the minarets, palaces and souks of the old town. Established during the 11th century under Berber rule, the city is littered with historic mosques, palm gardens and thousand year old walls. We stay in a riad – a traditional Moroccan house with an open roof that encircles a tiled courtyard – which is tucked away at the end of a series of twisting laneways. Our host Moonah – who speaks English about as well as we speak French – organises some activities through Aziz, a local fixer. He in turn provides us with a walking guide, transport, and advice; where to visit, eat, and shop. We enjoy a wonderful few days of breathing in the dusty air, moped fumes and shisha smoke of the ancient town, and playing hide and seek with the ever-present Aziz.
At mealtimes the locals offer menus accompanied by a gentle warning about the dangers of their spicy and flavoursome food, but to be honest we mostly find it bland and lacking dare, as if somehow weary from the complaints of delicate western palates. Harissa beans, lamb kofta, stuffed pigeon and harira – some sort of tomato and lentil soup – come and go, leaving minimal impression. Besides, we're living in the era of reality TV cooking shows, where even my mum knows the difference between couscous and quinoa and regularly cooks sous vide eggs for breakfast.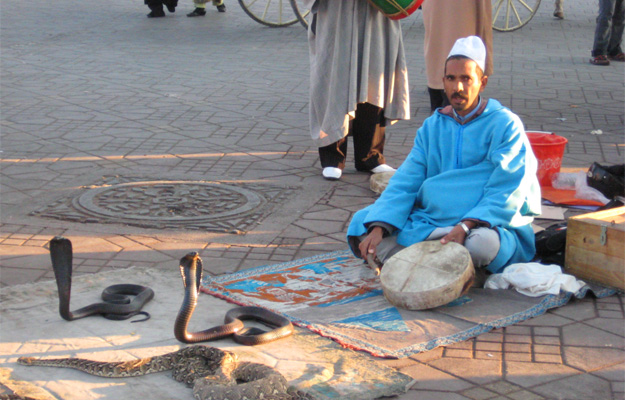 The Atlas mountains are also accessible by road from Marrakesh, and seeking a breather from our new 'friend' we look for a car beyond the vicinity of Moonah's riad. It makes no difference; somehow we wind up with an underling of the wily Aziz. It seems like nothing happens around a large section of the Medina without either his knowledge or input. It matters not, as our driver – curiously also named Aziz – offers up a fascinating rolling insight into Moroccan history and life as we pass by rocky hill towns, carpet weavers and icy rivers, eventually depositing us in front of a feast of goat tagine and nutty rice on a garden terrace in the shadow of a snowy peak.
There are so many things I like about train travel; the hustle of a busy station without the stress, security and restrictions of an airport, the ability to stretch your legs and explore the carriages while studying their inhabitants, and the chance to maybe sneak in a drink at the bar or a late snack in the dining car. We meet and chat with a Canadian couple who are full of suggestions for Casablanca – which happens to be their destination – however we have decided to skip the country's largest city, and home to 'Rick's Café Américain', and continue on; a far easier decision for us than it was for Humphrey Bogart and Ingrid Bergman.
The Atlantic port towns of Rabat and neighboring Salé are our first stop. The former is the capital, but seems to be the least visited of the major cities in a country so popular with European tourists and in particular, French ex-pats. With the sun on our shoulders we stroll down the impressive Avenue of King Mohammed V, make note of a pastry and sweet shop for later, and onward to the Old Fortress and Kasbah of the Udayas. It's not my first human traffic jam, but the old Medina has an authenticity about it that's hard to replicate. We push through and the rewards are great – a magnificent series of winding alleys featuring doors adorned in either white or bright blue, which lead us to a cliff-top view of the Atlantic Ocean to the west and the white walls of Salé to the North. The scene is not just inspiring, it's entertaining, and we pause to watch boys practise somersaults on the beach, fisherman on the rocks, and boats come and go up the Bou Regreg river which divides the two cities.
We feel that two days hasn't really done Rabat justice, but it is comforting being back on the train. What I love most about this method of travel is the chance to look through a rare lens into people's lives as you glide past, things that are missed by air, or on the highway. Trains pass by backyards, hidden pathways and industrial landscapes, allowing the viewer to shine a light on unseen worlds. This is straight-line transport, a steel engine dragging its cargo of humans, nuts and wheat. It's real life – everyday life – and not that which is polished and presented out front for tourists and other passersby. Kids on their bikes stop to gawp and give a little wave, women hang white sheets on ropes tied between tangerine trees, and a shepherd, too focussed on his goats to even bother looking up, waves his staff as the driver offers up a toot as tribute for our snaking, steel conveyance to pass through another's albeit dry, arid land.
As we approach Meknes, the tracks begin to wind almost carefully through the low-lying hills of the Middle Atlas, taking the opportunity to show off the cedar-forest greenery as well some unexpected variance in the topography. Our riad is as tricky to find as any other, but at least we gain an impromptu orientation of the Medina, even if we are still lugging our bags around. We're tiring of baked eggplant, and chicken and lemon cooked in olives, but dinner is more enjoyable and humorous than we anticipate, mostly thanks to one of our party's repeated attempts to depart via the toilets.
At the main square markets I haggle expertly for a camel-skin ottoman and silver pot over a cup of mint tea, so well in fact that our host questions whether I might have Berber traders among my ancestors. It's hard to take this compliment seriously however, as the chap also gleefully claims his name is 'Mohamed Couscous'. I get the feeling he's quite possibly the Moroccan version of Crocodile Dundee, trotted out on weekends for tourists with more Dirhams than sense.
A rooftop sunset with Moroccan champagne and sparkling rosewater is the perfect end to our time here, and tomorrow we will hit the rails once again. It's a moment to reflect on the week behind, and an excuse to pore over maps for the trip ahead – not that we could go anywhere that tracks don't reach. Fez is the last stop on our expedition, and for those continuing on, the train network stretches out to Oujda and Bouarfa in the east, and the edgy Mediterranean port town of Tangier in the North, from which a glimpse of Spain is visible on a clear day. We meet an excitable young interior designer named Reda, who is on his way back to Houston where he offers his services to the dentists and plastic surgeons of southern Texas. He shows us photos on his laptop of Middle-East inspired interiors, sapphire-blue pools and lavishly tiled courtyards. His work is stirring, and we take mental notes for another day, when surely a bathroom or patio will need a makeover.
For now we content ourselves with the opulent Dar Roumana, a restored 19th century riad and guesthouse run by an American couple Sebastian and Jennifer. The scene from the rooftop is breathtaking, and from here we can see across the entire walled city of Fes El Bali in front of us, the hills behind, and snow-capped mountains in the distance. The immediate horizon is obscured by satellite dishes and towers, and smoke from the dozens of olive pit fires drifts into our space along with a distant Adhan (call to prayer).
As the days unfold we alternate between relaxing in the various nooks and crannies of the palatial Dar, dodging donkeys along narrow cobblestone paths of the Medina, and sampling fava bean soup, saffron cookies and camel burgers. Le Cordon Bleu trained chef Jennifer leads us around the marketplace where we collect green beans, potatoes, dried apricots and (briefly) live chickens for a feast to be prepared under her instruction. We're all crying from the assigned task of grating onions for the lamb and chickpea soup, but there's no hiding the fact that we're all aware that this is our last day here.
Our final dinner is a hit and as there is no train to Gatwick, our Moroccan adventure unfortunately ends on a jet plane. It's an all-too-quick conclusion to what was a heavenly, old-world journey, but it still gives us enough time to dream, and make new plans.