Something in music: origin
One evening at a hot, trendy L.A. night club on a rare solo outing, yours truly found himself standing alone at the bar preparing to review the upcoming act. Before he had taken more than a few notes, however, he was bookended by a pair of vivacious vixens who insisted on engaging your rockin' writer in cozy conversation. Strangely, the subject of "marriage" arose.
One of the young ladies noted that when a gal is about to get hitched she needs "something old, something new, something borrowed and something blue." Your provocative penman was immediately inspired.  After all, those very same terms could be applied to music too: "Something old" or classic, "something new" or recently released, "something borrowed" (a cover), and "something blue" (a blues song or a song with "blue" in the title. The rest is history.
Something old
Something old this time is "Layla" by Eric Clapton and Jim Gordon.  It was first released by their blues-rock group Derek and the Dominos.  It's from their only album  Layla and Other Assorted Love Songs in 1970.  In 2004 it would take number 27 on Rolling Stone magazine's list of "The 500 Greatest Songs of All Time."
Something new
Our "something new" this time is this new music video from award-winning Los Angeles-based singer-songwriter and musician Eileen Carey.  It's titled "Meet Me Halfway" and was directed by Taner Tumkaya.  The song is her most recent, new single and it addresses a social issue and comments on today's society without any political pandering.  It is easily one of her best songs yet and is already charting on New Music Weekly.
Something borrowed
Our "something borrowed" is a cover of the 1964 song "Tainted Love."  It was written by Ed Cobbs and first recorded by Gloria Jones.  This version is by the Brit experimental music band known as Coil and released in 1985 as the B-side song of a 12" vinyl record.  It's considered to be the first official AIDS benefit release.
Something blue
The "something blue" this time is "Dust My Broom" performed by Elmore James.  It was first recorded on August 5th, 1951.  The song was released on a Trumpet 78 record on the flip side of "Catfish Blues" by Bobo Thomas.  The famous "Dust My Broom" motif is reported to have been central to James' studio output.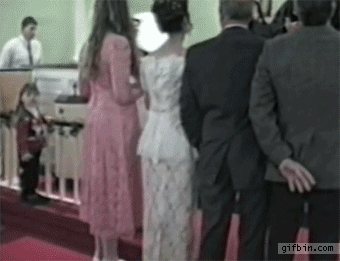 Did we mention your favorite "Something old, something new, something borrowed, something blue"? If not, let us know, Don't forget to send us your sexy or funny bride photos too!